How these 5 people are doing a big difference in the world. You don't have to be rich and powerful, you don't need a big network. All you need is a will to make a change. If you look at Greta Thunberg, for example. A 16-year-old girl, skyrocketed the whole planet's awareness about climate change and veganism, all by staying true to her beliefs and letting others know that is time to make the change.
There's something suffocating our planet. It's light, multipurpose, endemic to our modern lifestyles, and has a half-life of a few thousand years. It's called plastic and it's here to stay. Literally.
Plastic products will live anywhere from 1,000 to 1 million years. Let me give you a frame of reference for those dates. About a thousand years ago, paper and gunpowder were introduced. Europe moved into the Middle Ages.
A million years ago, the Ice Age came to a close and Homo Erectus (our forefathers) started to walk upright and learned to use fire. So, if we calculate the life of plastic, who knows what our Earth will look like once all of the plastic we use is finally gone.
I for one, certainly hope that we will still be walking on our back legs and using fire. But, we are smothering our planet in plastic waste. Couple that with our desire for Barbie-Esque air-brushed bodies and who knows if we might start to be created out of malleable plastic.
2019. A lot of things have happened this year. Some people call it the year of VEGAN, some people don't even realize what kind of massive changes we have achieved. Yes, we. Because when it comes to plastic consumption, animal product consumption and demand, we are responsible for it, as well as completely free to demand a change.
I'm honestly so happy to be living in this day and age and take part in the revolution upon us!
As for me, this year has also been a year of big changes and switches. I'm now proudly living a plant-based lifestyle, I make many things at home, including my own milk, yogurt, bread and I grow as many different vegetables as I can! I have really made a point of cutting down my single-use plastics, and I'm keeping it very simple. I travel with less and I live with less. I invest in long-term durability items and reusable utensils. I know I don't have to be famous or very influential to inspire others, which is why I share quite constantly over my social media, and this blog, the thoughts, and tips that I come across about living a plastic-free lifestyle.
And it brings me such joy when I hear someone say, that I was the one who inspired them to buy a reusable bottle or to always bring a tote bag to the store. My mission continues, and for all my readers, thank you for sticking with me, all this time!
Read more: 7 Ways to Switch into A Plastic-Free Lifestyle
Read more: Eco-Friendly Alternatives
Read more: 5 Ways To Travel With Less Waste
Young Ghanaian finds a solution to turn plastic waste into fuels to power cars
In Ghana, the menace of plastic waste is a global phenomenon! Young Ghanaian start-ups have started an initiative to help deal with the challenge by turning plastic waste into fuels for usage and the project has received a GEFSGPGhana UNDP Ghana support to begin the pilot stage of the laudable initiative.
Read more: https://yen.com.gh/130589-genius-ghanaians-turn-plastic-waste-fuels-power-cars-household-use.html?fbclid=IwAR1lLNP3q7nBEHGX6BWWVvclGAqh6GpNxWpDfkaI_zoQIDrBdp_H4OaHGr0#130589
Friends at Plastic Free Fridays
Plastic-free Fridays is a social media campaign that encourages others to go plastic-free for at least one day a week – Friday! Just to give it a try and see how it feels. It was started by a professional skier, Sierra Quitquit and supported by many awesome athletes in the snow and surf industry. By sharing daily tips, accepting others and being constantly aware of the progress over perfection principle, they had become one of my favorite plastic-free campaigns in 2019!
"Our mission is to help significantly reduce single-use plastics consumption among individuals by raising awareness and shaping positive habits on a broad scale through education, awareness, and alternative solutions, while also working towards systemic change on the community-, corporate- and policy-level."
Follow @PlasticFreeFridays on Instagram
Plastic Free Fridays (read more)
Plastic bags blow – Ross Mirkarimi
Our buddy Ross was inspired by our global friends in Bangladesh who passed the first plastic bag ban worldwide. He brought the concept to the residents living in the windy hills of San Francisco. What better city than one populated with early adopter liberal activists to test the appeal of canvas instead of plastic.
The city council member made national news headlines when he ushered through the passage of the first plastic bag ban in the U.S. It has since spread to all corners of our nation, home to both tea party activists, coffee party partakers and everyone in between.
Be like Ross: Get involved today to ban plastic bags in your community
Rising Above Plastic – Jordan Howard
With only 18 years, Jordan is killing the environmental activist game! Her accomplishments are already worthy of a full-length book. As a senior at the Environmental Charter High School in Lawndale, Calif., this young greenie is an anti-plastic crusader.
Not only is she inspiring, mentoring and educating people of all ages, but she is also putting her words into action. Jordan trained students on the harms of disposable plastics, presented solutions to environmental problems in her city, talked to Google executives about plastics and is the editor of "Green My Parents."
This media-savvy girl has been featured on T.V. shows and in films, and is featured in the new book "Girls Gone Green." In between it all, she does her homework and adheres to her curfew.
Tears for fears – Nandita Raj
We're going even younger now! Our third-grader Nandita Raj was fearful of all of the plastic destroying our planet. So scared in fact, that it drove her to tears. But rather than wallowing in misery, her tears drove her family to action. Her parents swapped plastic bags for canvas and despite the social chills this middle-class family endures from carrying reusable bags and containers with them, they're committed activists now. How inspiring?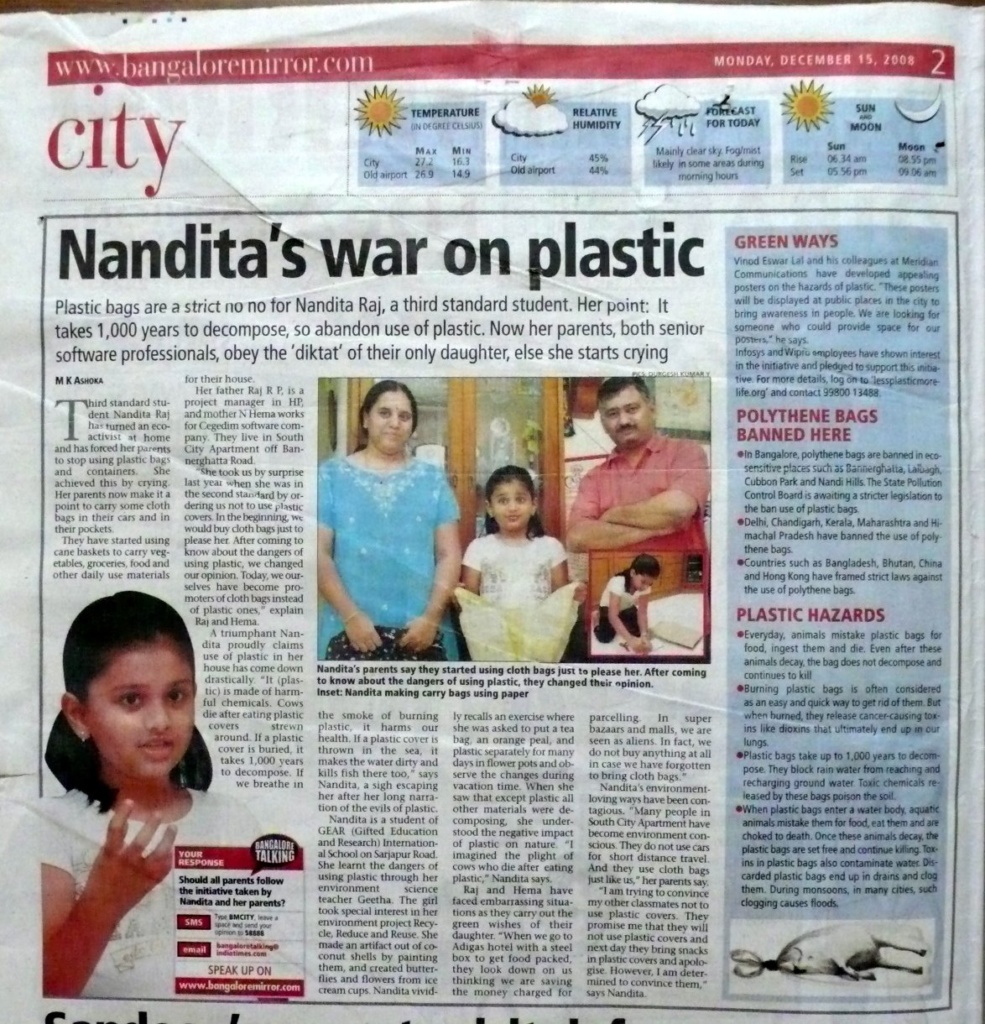 Taking it even further…
Wondering what to do, where to start? If you are new to this whole plastic-free lifestyle idea, start here.
It starts with education! Continues with a plan and proceeds with ACTION.
Check out some of the most amazing resources on the internet:
Plastic Pollution Coalition (click)
That Sustainable Life (click)
My Plastic-Free Life (click)
#sustainabilityissexy TAG YOUR POSTS @alenkaamali (for a repost) Let's make a difference in the world. Together.
Did you like this post? Help me spread the word by sharing it with your friends and pinning it to your Pinterest boards:
More about Alenka
"My name is Alenka and I'm a Squamish based photographer. I love using my medium to capture sports, adventures, underwater shots, adventures in the mountains and days on snow! Very simply put, I'm one stoked girl, ready to get up at 2 in the morning and hike for sunrise, go to the airport and take a random flight…you name it!
Photography, web design and digital marketing have been things I'm proud to call my job lately! Very flexible, lots of traveling and even more adventures than when I was a kid. Here, on my website I share tips on photography, spreading awareness about the zero-waste lifestyle and sustainability and crazy stories from my travels. Welcome."


This post contains affiliate links – click here to learn more!